Florida's medical marijuana treatment centers (MMTC's) are responsible for cultivating, processing, and dispensing medical marijuana and marijuana derivative products to qualifying patients. State law dictates that all cannabis products be tested by a third-party independent lab to verify their safety for human consumption.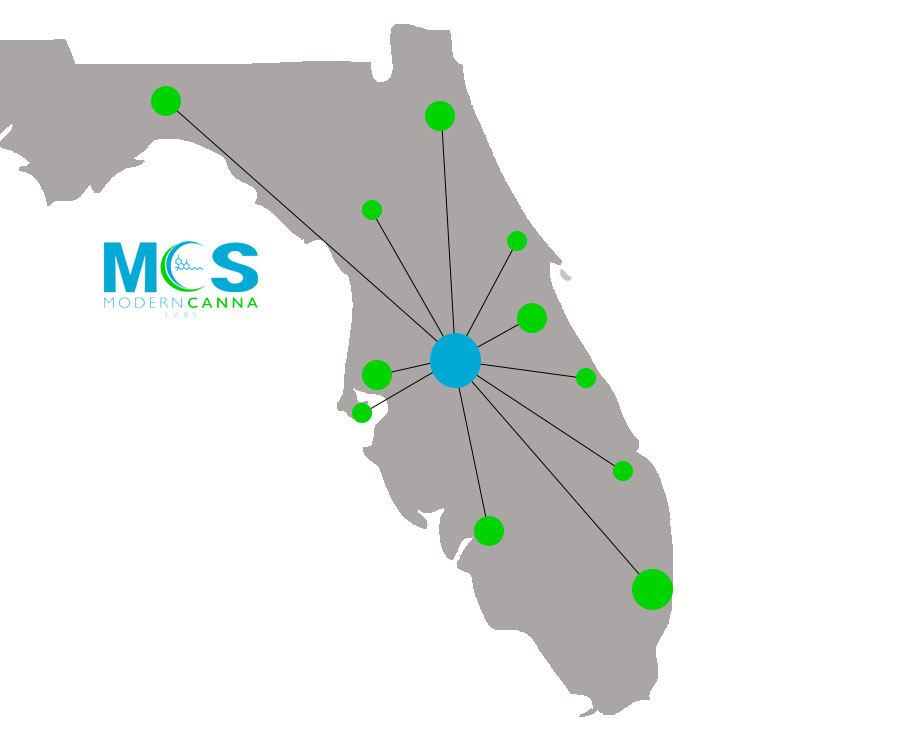 As a certified marijuana testing laboratory in central Florida, Modern Canna continues to expand our services to meet the changing needs of MMTCs. It is our goal to ensure that patients have access to cannabis that is free of pathogens, heavy metals, and other dangerous contaminants.
Stay compliant with laboratory testing for MMTCs
Modern Canna offers cannabis testing for MMTCs that utilizes the latest technology and validated methods. Our sampling services help to ensure Florida's medical marijuana treatment centers remain in full compliance with current rules regarding security standards and quality assurance.
Before dispensing a final medical marijuana product, MMTCs are required by Emergency rule 64ER20-8 to have a random sample of the product tested by a third-party independent lab. Modern Canna follows strict field sampling protocols approved under its ISO/IEC 17025 scope of accreditation.
Our highly trained field samplers ensure all samples collected are free of any bias and remain untampered with and uncontaminated.
Cannabis testing process
The following is a synopsis of the standard operating procedure that all Modern Canna samplers follow:
The MMTC fills out a chain-of-custody (COC) document that triggers a sampling job to be scheduled. The chain of custody log will contain information such as: the date and time sampling started and ended; where the sample was collected; the sample matrix; the total quantity of final products; weight and volume, and any sampling conditions or problems that arose.
A Modern Canna courier and certified sampler are sent to the MMTC facility in order to meet the two-person transporting requirements outlined by the OMMU.
The certified sampler and courier collect the necessary materials and supplies, go to the collection facility, and notify the MMTC that they are en route and provide an estimated time of arrival.
The certified sampler ensures that the collection area is clean and free of contaminants.
Any tools or supplies needed for sampling are sterilized.
The sampler uses proper PPE, based on the rules for the MMTC and the location of which the samples are being collected. 
All data is entered into the sampling field log at the time of collection.
Randomized samples are collected one at a time.
If the final product has been tampered with or opened, the Modern Canna samplers select a different sample.
Reject samples are noted in the field sampling log
Samples are weighed (total weight including container) and the information is logged.
If multiple samples are collected, new gloves must be worn for each new collection. Samples are placed into containers based on the sample ID, as identified on the COC. 
Samples are placed in a transport container in front of the MMTC representative.
The container is locked using a tamper evident seal.
The MMTC representative signs the COC document stating that the samples are being released to Modern Canna.
The sampler signs the COC document stating that the samples are now under Modern Canna's procession.
The sampler follows the MMTC visitor procedures in order to exit the building. 
The samples are then transported back to Modern Canna for analysis.
Third-party cannabis testing for Florida MMTCs
New legislation has greatly expanded the number of dispensary brands in Florida, giving medical marijuana patients an increasing number of choices. Accountability practices and standards must be in place. Now more than ever, it's important for MMTCs to align with an established cannabis testing lab that understands the regulatory framework.
Modern Canna works with a number of MMTCs, providing a comprehensive range of testing for mycotoxins, pesticide contamination, terpenes, flavonoids, heavy metals, residual solvents, and cannabinoids like THC, CBD, and CBG.
For more information about our sampling services, contact our offices in Lakeland, Florida.