In the wide world of cannabinoids, CBG is a compound that is often overlooked. Cannabigerol may be less familiar than CBD or THC, but it is no less intriguing. CBG is the precursor or "stem cell" molecule to phytocannabinoids, which help relieve insomnia and anxiety and keep aching joints manageable.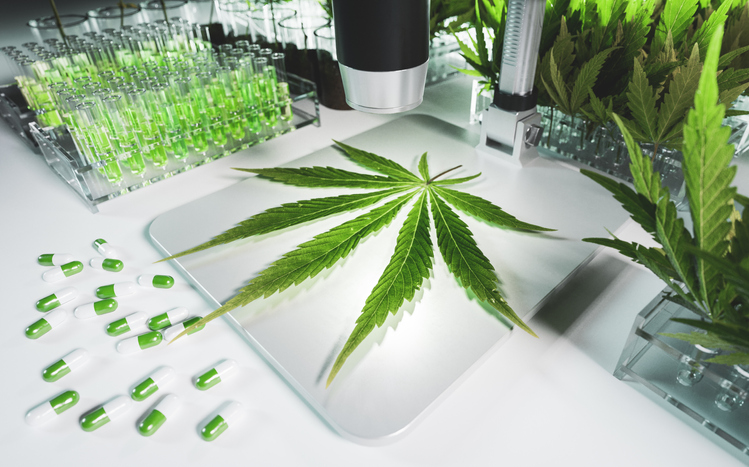 In its inactive state, cannabigerol forms the foundation for THC, CBC, and CBD. You won't find high amounts of cannabigerol in hemp or cannabis. That's because this unsung compound is almost immediately transformed through enzymatic reactions into other cannabinoids.
Hemp typically contains more CBG in its natural form compared to cannabis, but crossbreeding has been shown to increase CBG yield.
Counteracts the psychoactive effects of THC
Cannabigerol, like CBD, will not get you "stoned" or high. Interestingly, it can help buffer the psychoactive effects associated with THC. Just like CBD, this cannabinoid decreases psycho-activation caused by delta-9-tetrahydro-cannabinol, which can be a huge help for patients experiencing paranoia and other mind-altering effects.
This means a medical cannabis product that includes of non-psychotropic CBG could potentially offset the intoxication and hallucinatory high of THC.
CBG shows promise for medicinal use
While clinical trials have yet to confirm the full medicinal and therapeutic benefits of CBG, early studies and anecdotal evidence are promising.
CBG inhibits GABA (a neurotransmitter) uptake in the brain, which soothes anxiousness and promotes muscle relaxation. It also has tremendous anti-inflammatory properties and may be useful for treating conditions such as inflammatory bowel disease, colitis, and Crohn's disease.
Other potential benefits include:
CBG is a potent vasodilator and may effectively treat glaucoma by reducing intraocular pressure
In laboratory studies on mice, CBG slowed neurodegenerative diseases and inhibited the spread of colorectal cancer cells
European studies suggest that CBG can fight methicillin-resistant Staphylococcus aureus (MRSA) strains
Research indicates that cannabigerol can inhibit muscle contractions, making it a potential treatment for bladder disorders
Reliable testing for hemp and medical cannabis products
The prevalence of cannabis and hemp-based products for therapeutic use has skyrocketed in recent years. Interest in CBG and its benefits are growing among both the scientific community and consumers. While there is tremendous innovation in this burgeoning industry, manufacturers and distributors need to take precautions to make sure that their products are safe, and truly contain the cannabinoid levels that are advertised.
Without federal regulations in place, you need a trusted cannabis testing lab to confirm safety, potency, and quality assurance. Contact Modern Canna, Florida's most trusted medical cannabis laboratory and the only Leafly Certified Lab Partner in the southeastern United States, for more information about our GBG testing services.
Our laboratory utilizes ISO/IEC 17025 certified state-of-the-art instrumentation that identifies and quantifies cannabinoids – including CBG, THC, CBD, and CBDA — at low concentrations within a full spectrum of hemp and cannabis products.